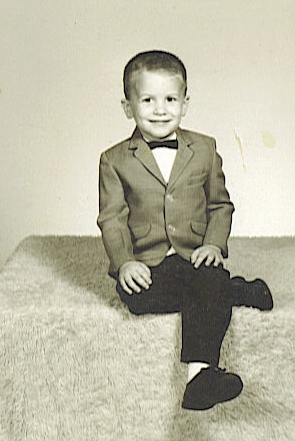 Hello!  I'm Austin Davis.
My professional life has been unique and varied.  As a full time professional stand-up comedian, I worked nightclubs and venues all over the U.S.A. Opening for acts as diverse as Jay Leno and Wayne Newton, for about 5 years I made my living purely off "Funny for Money and Yuks for Bucks!"
In 1985, just as I was starting my career as a comedian, a close friend who owned a driving school offered me a job teaching the standard National Safety Council's Defensive Driving Course to fill in the comedy down time.  Learning quickly that a funny driving class was much more fun for the students and for me, I blended it with my stand-up comedy.  Yes, I am the guy who invented Comedy Defensive Driving.  This was a perfect training ground to mix laughter and learning!  I told my comedy nightclub crowds about my defensive driving class to get off a traffic ticket if they needed to and my defensive driving crowds filled my stand-up appearances at the comedy clubs.  The word got around about my blend of Entertain, Educate and Motivate to Change and I began to be asked to speak at various companies and for various groups.  So you see my career as a professional speaker sort of picked me.  Stand-up at night and corporate training during the day---I was one happy camper!

Thanksgiving night 1989, having just returned home to my Houston Galleria area apartment after dinner with my family, I heard a thunderous banging on my front door.  I descended the apartment stairwell, a Glock handgun ready to shoot and a pepper spray in my back pocket putting into motion a plan devised  from an earlier "what if" worst case scenario game plan.  I had been wary of trouble in my new neighborhood and had planned accordingly in the event I needed to react to defend myself.

The door lock failed and a pair of men landed on my home's first two steps loudly babbling angrily through a haze of drugs and alcohol about someone else they thought still lived there and owed them money.  There was not enough danger to shoot them but definitely too much drunken misdirected rage to ignore them in my home.  I pulled the pepper spray out of my pocket and proceeded to hose them with the chemical while beginning the process of literally kicking them out of my home.  I called 911 and a police unit was dispatched to my apartment.  The officer arrived about 10 minutes later to see me holding the pepper sprayed intruders outside my broken door.

I felt victimized in many ways that night.  The police response was lacking to say the least, my home as a castle vibe gone forever, and my innocent faith in the goodness of my fellow man shattered.

While I was not physically injured or mentally traumatized by that crime the way millions of others are each year at the hands of criminals, it did change something in a deeply profound manner inside me.  It took an innocent life view of "it will never happen to me" away.  I realized I was lucky.  I had a plan that worked, but really only because my bad guys were not sober and not 100% committed.

That night, I decided to do for crime prevention training what I did for Driving Safety.  Soon thereafter, I left stand-up and driver's training to pursue Crime Prevention and Personal Protection.

The next year was spent learning all I could about firearms and personal protection/defense.  I became a certified rifle, pistol, shotgun, and home defense instructor.  I went to shooting schools, studied every video available to me and read everything I could.  After a chance meeting and with a mental health worker in the county probation system(and later a good friend!), I was able to gather and gain trust of a varied group of "professional acquaintances".  These acquaintances were formerly,  and in many cases, unfortunately, still actively involved in many areas of crime and criminal professions.  I interviewed and came to know a wide variety of criminals. From personal crimes to property crimes,  I quickly learned from the bad guys themselves. Because of this newfound knowledge, I was hired by a national crime prevention organization, "Citizens Against Crime" in1990 and gave an average of eight crime prevention/personal protection classes a week to every type and size group and audience over the next 4 years.  I also functioned as their Law Enforcement Liaison and was grateful to be allowed to work with many different agencies on many different projects big and small.

Speaking about 1500 times over about four years really sharpened my Entertain, Educate and Motivate to Change crime fighting/personal protection style.  It also gave me the chance to speak to hundreds, if not thousands, of victims of every type of crime imaginable.  Many individuals confided their own crime traumas to me after these seminars.  Many admitted that this was the first time they had ever shared their story.  I have heard tales of heartbreak and suffering at the hands of criminals that affect me to this day.  I learned what worked and what did not work through an endless series of personal revelations of those that had experienced it firsthand.  Also, my first hand experience at speaking after a corporate and organizational tragedies gave me a deep insight on how to avoid, recognize, and  how to deal with dangerous people in a variety of dangerous situations.

My flexible schedule of speaking gave me time to pursue a passion of sailing my 26 foot sailboat "Bodhi" in the Gulf of Mexico.  I loved solo sailing and my work schedule made it all possible.  In March of 1994 my life made another turn (see article Sea Kayaker) and the event left me with a need to stop public speaking for awhile and re-group.

With encouragement of my Law Enforcement friends, I took the next two years off to become a Police Officer.  Taking advantage of training that was only open to law enforcement, I diversified my base of knowledge.  In October 1996, I left police work to start Davis Defense Seminars.  Davis Defense Seminars combined my stand-up comedy with my previous four years with Citizens Against Crime plus all I had learned in the last two years of active Law Enforcement in a way that was street proven as well as entertaining.  It is totally unique in the area of crime prevention/personal protection training.

Davis Seminars gave me a chance to host a variety of training topics and I have been truly grateful for many loyal clients, groups, and organizations over the years that have trusted me with their own, their company's and employees' safety in a variety of topics from Protection of Proprietary Information, Personal and Corporate Travel, Work Place Violence to a wide range or individual crime topics.

I was instrumental in the creation, writing, and solo on-screen talent for a multi-show series on Law Enforcement Television (LETN).  LETN is a secure satellite transition broadcast to subscribing police agencies around the globe that provides supplemental training.  I developed many 30 minute shows featuring training topics as varied as Protection and Investigation of Proprietary Data Crimes, Corporate Travel, and More Effective Police Communication Skills.  The world-wide feedback from that broadened my experience and Law Enforcement client base.
Also, I have created, written, and appeared in two separate Apartment Resident Safety Video projects and one Apartment Fire Resident Safety video that were well received by many law enforcement agencies and had wide apartment industry approval. Both the Apartment Resident Fire and Security DVD's are in discussion to be re-shot in the near future.

For many years, I was an instructor for the Houston Police Academy's Texas Commission of Law Enforcement Officers Certified Crime Prevention Program for both the 40 hours of Residential Crime Prevention Certification and also taught parts of the 40 hour Commercial Crime Prevention Officers Certification.  I learned so much over the years from teaching and working with some of the finest Crime Prevention Professionals from every area of Prevention/Protection.  I can never thank the good people that make up HPD for the opportunities they openly gave me.

June 6, 2002, I had a bad skydiving accident (are there good skydiving accidents?) and decided fate had dealt me another direction for my life: Fitness and Weight Control. (Read about it in www.fitandfunny.net)
Deciding to leave crime and focus on my own rehabilitation, I have taken my same street-proven attitude to permanent weight control and fitness.
Currently, I spend the largest portion of my time operating Kangaroo Carry, LLC.  However, my heart will always belong to crime training.  I still keep those skill sets sharp and current.

If you would like to hear "Laughing at Danger", my basic personal protection crime prevention seminar, or any of my other proven crime/safety topics, I would love to provide it.  If you would like the help provided in any of the other Davis Seminars, please, just click on this Seminar Button to learn more specifics.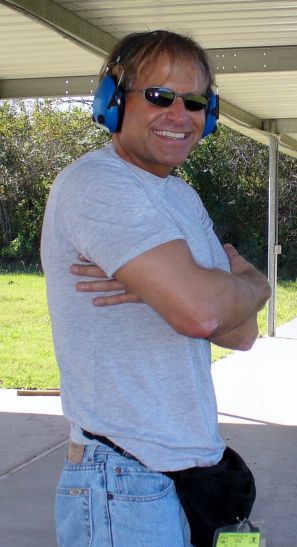 I also teach a defensive handgun skill class at my private range if you are in the Houston area or have a group and the range facilities to host me at your  own location.
We are entering a new and uncertain time.  The current economy will provide the spark to fan the flames of far greater criminal activity.

If I can be of help in reducing that risk to you, your family, your business or organization --- DO not hesitate!  Pick your class, pick your time, then dial...